Gas & Water Vapor Transmittance Measurement Device - Contracted Analysis: Evaluation Cases
Evaluation Cases 1
Reduced measurement time using the MA method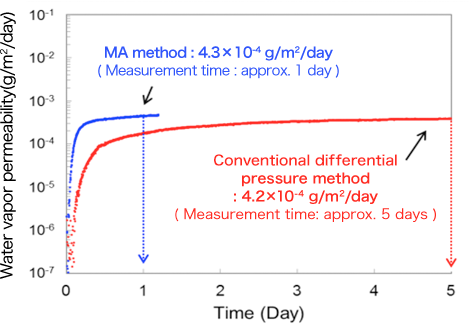 Sample: Film for organic device substrate

(Base material) PET 100 μm
(Barrier layer) Organic/inorganic multiple layers
(One-sided barrier layer)

Test conditions: 40°C 90% RH
Preprocessing conditions

(MA method) None
(Differential pressure method) 80°C vacuum evacuation (12 hours)
Set to +40°C and wait for stabilization (6 hours)
The MA method enabled evaluation in 1 day for a measurement that required 5 days using the conventional differential pressure method. (Approximately 1/5 the measurement time compared to the conventional method)
Evaluation Cases 2
High-sensitivity water vapor permeability measurement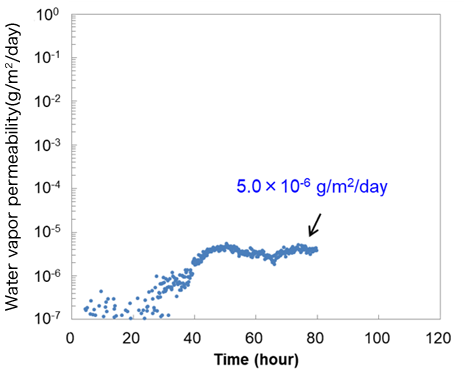 Sample: Film for flexible OLED substrate

(Base material) PEN 125 μm
(Barrier layer) Organic/inorganic multiple layers
(One-sided barrier layer)

Test conditions: 40°C 90% RH
Measurement method: MA method
Preprocessing conditions: 40°C vacuum evacuation (24 hours)
Through measurement using the MA method, it was possible to evaluate film with extremely high barrier properties at a level of 10-6g/m2/day in about 3 days.
Evaluation Cases 3
High-sensitivity gas permeability measurement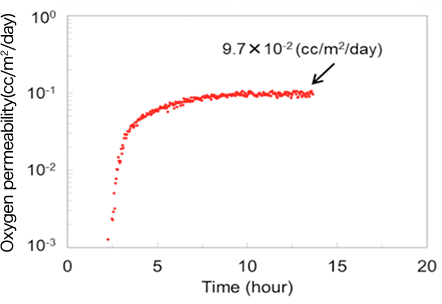 Sample: Film for solar cell front sheet

(Base material) PET 60 μm
(Barrier layer) Organic/inorganic multiple layers
(WVTR10-3level)

Test conditions: 40°C, O2 1atm supply
Measurement method: Differential pressure method
Preprocessing conditions: 80°C vacuum evacuation (12 hours)
Set to +40°C and wait for stabilization (6 hours)
The permeability of various gases can be measured with one device. (Water vapor, oxygen, nitrogen, helium, carbon dioxide, etc.)
In the evaluation cases, oxygen permeability was measured, and it was possible to evaluate approximately 10 hours after supplying oxygen.
By using other gases such as helium as a replacement for water vapor, one can expect significant reductions in time required for quality control of barrier film.
Click here for E-mail inquiries
Click here for telephone inquiries
Device Materials Development Department

+81-78-303-9086

Hours: 9:00 a.m. - 5:35 p.m., Monday to Friday

(Excludes holidays, year-end and New Year holidays, summer holidays, foundation anniversary, etc.)